If you are using a screen reader and are having problems using this website, please call (888) 842-5007 for assistance. Please note, this number is for accessibility issues and is not a ticketing hotline.
ALL 2023 WRISTBANDS, VEHICLE PASSES, LODGING PACKAGES AND ADD-ONS WILL BE ELIGIBLE FOR A LAYAWAY PAYMENT PLAN.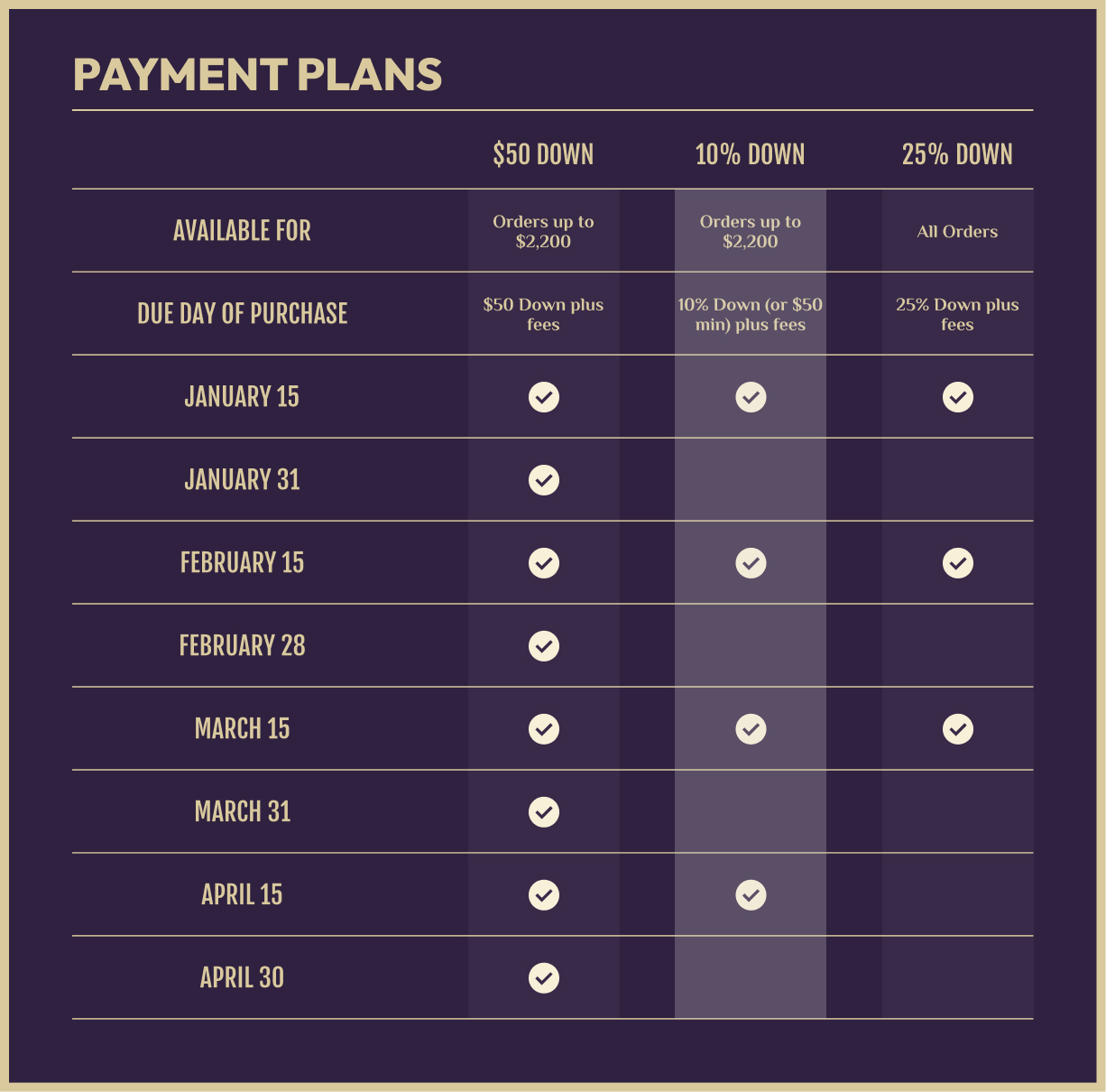 Service charges and shipping fees are split evenly between payments. There is an additional $2.50 per transaction processing fee for Layaway.
Payments will charge to your account automatically. You may not see the payment on your statement for several days. These payments will be a percentage of the package cost, with fees split evenly across all payments.
It is your responsibility to keep track of your payments.
Default on payments will result in cancellation of your order and a $50 cancellation fee. No Exceptions. You must pay attention to your bank/credit card statements to make sure your payment went through. You will have a 10-day grace period to pay after the initial charge is attempted. If your payment is not made by the 10th day after that initial charge is run, your order will be canceled and you will be charged a $50 cancellation fee.
If you do not pay within the 10 day grace period, you will lose your order.
IMPORTANT PLEASE READ – NO REINSTATEMENT
Once you make your first payment, your purchase is reserved as long as you make all other payments on time.
Failure to pay will result in the refund of all the money you have paid toward your purchase, less a charge of $50, and the irreversible cancellation of your order.
Our ticketing partner will contact you within five days if your payment does not go through. Please make sure your contact information is current to guarantee that you will receive updates!
If a payment is declined, you will be granted a 10 day window to reply to our ticketing partner's inquiry with updated payment info.
All payments are automatically billed to the card used for your deposit.
At any time, you can log in to your account or call Festival Ticketing to pay off your Layaway Plan in full.
Payment Plans are available for all orders over $100.
You may pay in full if you do not want to use a payment plan.
Payments may take up to 72 hours to process.
Payment Plans available through December 12
Learn more about Electric Forest Ticket Fees here
All purchases are final
Prices subject to change
Lineup subject to change
All Sales are final